We all know a good gaming headset should feature comfort for extended periods, delivers good imaging sound, features a mic, and more. But what exactly these all things mean, and how you can indicate gaming headset quality without even trying.
In this guide, We'll share some basic but important tips that will allow you to find good gaming headphones at a reasonable price.
So without wasting any time, let's begin.
5 Steps To Choose Best Gaming Headphones In 2021
1. Choosing Between Wired and Wireless Headsets and Why it is important
Starting with choosing between wireless and wired gaming headphones. Instead of randomly reading the pros and cons of both types, identify your use and how you will use them.
We see a huge revolution in the gaming headsets/headphone industry, and there are excellent gaming headsets available in wireless and wired connectivity.
If you don't like the wired or your experience with wires is not good, then definitely go for a wireless headset. Other than that, some excellent models deliver excellent sound with high comfort and feature everything like a gamer you require, such as HyperX Cloud II, Steelseries Arctis 9X, and more.
On the other side, even a low priced wired gaming headset overcomes the lag issues and offers good comfort.
But if you asked me which one to choose, I will go with wireless gaming headsets. Because wireless headsets also offer wired connectivity, you can find excellent headsets such as HyperX Cloud II and similar models under $100.
It's up to you which type you like and your budget. If you are looking for a less expensive model, then wired gaming headphones will be a better choice.
2. Look For Platform Compatibility + Which Platform You Have For Gaming
Next, the most important thing many new buyers skip is platform compatibility. What if you found a quality headset at a good price, but it only compatible with Xbox, PlayStation, or PC.
If you play games on a PC, make sure the headset features a USB or 3.5 mm plug. If you choose a wireless headset for a PC, make sure it includes an adapter.
Go to the product page of the chosen gaming headphone and read specifications and features carefully. Each reliable headset brand such as HyperX, Sennheiser, SteelSeries, etc. mentioned platform compatibility clearly so you can easily find out.
3. Deciding Between Open and Closed Back
Just like wireless and wired headsets, it up to you whether you choose open or closed-back headphones. The thing you need to understand and consider is that open back features little to no sound isolation means the person sitting next to you will hear everything, and you will also hear their voices.
On the other hand, a closed-back blocks the ambient noises and gives you privacy.
If we consider a headphone based on privacy, then definitely the closed-back headphones are an ideal option to choose. From a comfort point of view, open-back headphones are ideal. They let the air in and sound out, which keeps the earcups cooler, and you can wear them for long periods without any break.
To achieve maximum comfort, make sure the game headset has breathable and comfortable earpads.
As far as sound quality goes, there is also a clear difference. If you like the sound with wider soundstages, more detail, and neutral sound, then open-back headphones will be an excellent option. But if you want more surround sound and bass, then closed back will be best.
If you record the gaming and playing, then closed-back headphones will be an excellent option to choose.
4. Comfort
We all know comfort is one of the most important aspects. It can be more important than audio quality because if you cannot wear the headphone for longer periods, you can experience audio quality.
Comfort can vary from person to person, but these are the three tips that help you find a comfortable headset.
Size of the Ear cup and ear pads
Soft and breathable earpads
Clamping force
Weight of the headphone
Suspension Strap
Usually, headphones available in on-ear and over-ear designs, and between two of them, the over/around-ear cups design offers better comfort.
Because over-ear headphones stay around the ear, not on the ear, so your ears won't feel any issue.
Next, check the inner dia of ear cups and the padding on both ear cup and headband. If the headphone offers replaceable earpads, it's great. But make sure stock earpads features comfortable velour or memory foam padding.
Next, the too-tight clamping force can hurt your head or ears and cause head fatigue, and too loose will not stay on the head, which makes you uncomfortable.
Check the headphone's weight, and its material, and if the headphone includes suspension strap, it will be amazing.
These are some basic but important tips that help you to find a comfortable gaming headphone.
5. Build Quality: Check the Material and Flexibility
The next thing you need to consider is the build quality. Most headphones come with a plastic build, which is fine, and it makes the headphones lightweight but makes sure they have solid plastic with excellent flexibility.
If you look for an expensive option, you can find headphones made of metal, which are incredibly robust. It is your preference and budget, but having a headset with quality plastic will not break for years.
6. Microphone
You may already have a separate microphone and headphones, but now you can get both in one. Gaming headphones like Sennheiser Game One and Game Zero feature an incredible boom mic that allows you to record gameplay or chat with your teammates.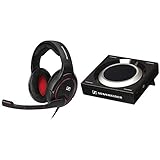 Sennheiser Game ONE Gaming Headset, Open Acoustic,...
Product 1: Extreme sound clarity & accuracy with original transducer technology.GAME ONE has...
Product 1: Noise canceling microphone ensures crystal clear conversations.Sound pressure level (SPL)...
Product 1: Convenient microphone mute;Sensitivity : Microphone: 38 dBV at 94 dBSPL
Product 1: Intuitive, integrated volume control
Product 2: Dynamic gaming Amp – the Sennheiser binaural rendering engine delivers breathtaking 7....
Currently On Sale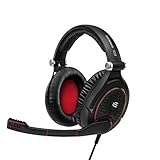 EPOS I SENNHEISER GAME ZERO Gaming Headset, Closed...
Closed Back - Closed Back Design Featuring Tailored Leatherette Double Layered Memory-Foam Ear Pads...
Xxl Earcups - Modern, Lightweight Yet Robust Design Featuring Xxl Ear Cups Incorporating...
Noise-Canceling Mic - Crystal Clear Conversations Ensured With The Professional Quality...
Foldable - Foldable Design Featuring A Volume Control Located On The Right Ear Cup With Two Cables...
As far as the microphone's quality goes, I suggest you go for headphones with a boom mic instead of built-in. Boom mics pick the voice clearly and have overall better performance.
7. Imaging and soundstages
As far as sound quality goes, imaging is the most important thing you should look for in a gaming headphone. Imaging in sound means you can hear and indicate where the sound is coming from. It not only increases the sound quality, but it is beneficial to improve your gaming performance.
Along with imaging, the soundstage is also very important. Soundstage means the size of the sound. For immersive sound, wide soundstages are necessary.
However, some people prefer less immersive sound, so it up to your preference but check out the imaging and soundstages and choose which type of sound you prefer.
If your gaming in noisy or room where you don't want to disturb others closed back will be a better option but if you play in a quiet room then an open back gaming headphone is an excellent option. It features more detailed imaging and wide soundstages. Moreover, they are comfortable for longer sessions.
Last update on 2023-02-17 / Affiliate links / Images from Amazon Product Advertising API