Looking to take your audio experience to the next level when watching your favorite movies at home? Surround sound headphones can do the trick by providing you with rich and immersive audio.
The headphones you wear to watch movies can make, or break your whole movie experience. We have tested several pairs and in this article, we take a look at the 5 best surround sound headphones in 2021 for watching movies.
In a hurry? Here are our top 3 best surround sound headphones for movies:
Editor's Pick
Battery Life (per charge)
Budget Pick
Battery Life (per charge)
Premium Pick
Battery Life (per charge)
---
The 5 Best Surround headphones for Watching Movies (Reviewed)
One-line review: the Sennheiser RS 175 RF perfectly blends rich sound, bass, and comfort to deliver a theater-like movie watching experience.
Currently On Sale
Sennheiser RS 175 RF Wireless Headphone System for...
Compact, ergonomic over-ear headphones. Connectivity Technology: Wireless.Frequency response 17 -...
Bass boost and surround sound listening modes. Maximum sound pressure level: 114 dB at 1kHz, 3...
Digital wireless technology ensures that signal transmission remains clear and accurate
Easy to set up and enjoy
MAIN controls located on headphones
The Sennheiser RS 175 RF tops our list of surround headphones for watching movies. These wireless headphones offer a clear audio quality, with rich and balanced bass. We absolutely loved the sound quality and effects of the lightsaber battle between Darth Vader and Obi-Wan Kenobi.
The reason that these headphones can take the first spot is amazing sound controls. On the left ear cup of RS 175 headphone, you can find four buttons for volume, increasing and decreasing the volume, the bass control button, and the Surround Sound enabled button. Another thing that makes these pairs worthy is an impressive wireless range. They have 100-meter wireless range, and in a house, you'll hear clearly without any distortion or disconnecting. Furthermore, they have RF(Radio Frequency), so walls or other barriers will not affect its range.
They have a clear sound and bass. Overall the sound is well balanced, and while watching movies, you'll hear every small detail of all objects, which enhances the experience and excitement of the movie. They have a closed-back over-ear design that offers excellent comfort and blocks sound leakage. The person who sits in the same room will not listen to any sound that provides you privacy, and also, no one gets disturbed.
The build quality and design of the Sennheiser RS 175 RF are outstanding. The headband is adjustable and fits on the head very well. Headband and ear cups have soft and comfortable padding that offers excellent comfort.
You can set up or connect RS175 RF headphones with any device without any problem. The setup process is very easy and simple. You can connect them with any device using wireless and cables. Along with headphones, you'll get a transmitter (base station). The transmitter provides you analog and digital connections. You can connect digital devices on the back of the transmitter, and in a 3.5mm jack, you can input any TV or audio source.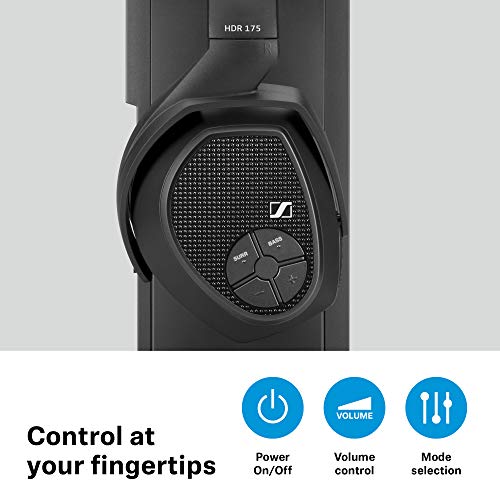 It has two AAA rechargeable batteries that are placed behind both ear cups. You can replace these batteries as well. The battery life of the Sennheiser RS 175 RF is up to 18 hours.
Sennheiser RS175 RF is specially designed for watching movies, TV, and listening to your favorite song of the moment. These are easily the best wireless surround sound headphones for movies currently on the market for less than $200.
🤩 Pros
100-meter wireless range
Supports both digital and analog input
Excellent and well-balanced sound quality
---
One-line review: More than decent audio performance and budget-friendly pair of headphones for an immersive movie experience.
Currently On Sale
Philips SHP9500 HiFi Precision Stereo Over-Ear...
50mm neodymium drivers deliver full spectrum of sound
1.5m cable gives you freedom of movement for indoor use
Comfortable double layered headband cushion, breathable ear cushion for longer wearing comfort
Finishing of connector: gold-plated, acoustic system: open, Magnet type: neodymium
This pair of headphones offers a great value for money.
The Philips SHP9500 HiFi Precision Stereo Over-Ear Headphones are a pair of sleek, black headphones with an aluminum headband that offer detailed sound quality for anything that you listen to. The shp9500s have ear pads on each side for maximum comfort and noise isolation and a single lead cable to keep the listening experience uninterrupted.
The SHP9500s retail at a relatively affordable price when compared to other high-end headphones such as the Bose QuietComfort 35 II which cost three times as much, making it a perfect product for anyone who likes listening to music or watching movies.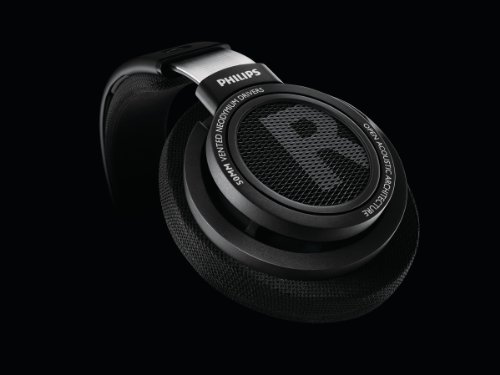 Philips SHP9500 HiFi Precision Stereo Over-Ear Headphones have been carefully tuned by the company to provide an immersive surround sound experience. They are very easy to set up and just as easy to use, so you can enjoy listening to your favorite music, movies and shows in just a few minutes.
The design on the Philips SHP9500 is sleek and professional. The earcups are comfortable to wear, and they fold inwards to fit in a bag if you need to carry them around with you.
Philips has made sure that these headphones produce a high-quality sound by using their signature HDP5 dynamic drivers for accurate treble, clear vocals, and deep bass sounds.
The headphones have an impedance of 32 ohms which means that they will work with any device that has a 3.5mm audio jack, such as smartphones, tablets, laptops and portable music players. The sound produced by these headphones is crystal clear and the bass sounds natural without being too loud or overwhelming.
Its lightweight and foldable design makes it easier for you to carry them with you on your journeys or store them in your bag. The frequency response is very wide which makes it possible to hear all the low notes very well.
😐 Cons
Not the best Bluetooth range
🤩 Pros
Super budget friendly
Lightweight and comfortable around-ear fit
Supports both wired and wireless mode
---
One-line review: Deep, clear, and balanced 3D sound that can take your movie experience to the next level.
Sony L600 Wireless Digital Surround Dolby Audio...
Immersive surround sound with theater mode
Four sound modes for enhanced movies, Dialog, games and Sport
Up to 98.43-Ft wireless range for listening and viewing freedom
Long lasting listening with up to 17 hours of battery life
In the box: Headphone, Charging Stand, Optical Cable 1.5M, and AC Adaptor
Sony is famous and well known for manufacturing quality audio products, and in the true surrounding sound industry, they produced Sony L600. These are a modern and practical pair of headphones. They came with a headphone itself and a transmitter. Things that make the Sony L600 ideal for watching movies is they offer cinematic sound because of 7 speakers, and 1 subwoofer means they have 7.1 virtual surround sound. Furthermore, 40mm drivers and 10-22,000 Hz frequency response produced a very deep, clear, and balanced sound.
Also very easy to connect with TV or other devices. They have an RF connection with a 320+ ft range, so you wear them and move in all house disconnecting. You can use them for 20 + hours with a full battery. The design and build quality are excellent and reliable. These are lightweight and comfortable. The headband and ear cups have soft padding and fit around the ears and the head without any unnecessary pressure. Sony L600 is doing a great job of isolating and sound cancellation. These are a good pair of headphones if you don't want to disturb others.
On the right ear cup, they placed control buttons. You can control and adjust volume and other functionality through these buttons. You can use their 6V transmitter to connect digital and analog audio devices. On the side of the transmitter, you'll see three lights that tell the battery status. If you want to get a cinematic experience while movies at home, you can consider this a good choice. 7.1 Surround sound delivers audio from 360 degrees that make your experience far better than watching a movie on the regular headphone. Thunderous bass and atmospheric echoes with precision make the sound more beautiful.
The impedance of the Sony L600 is 66 ohm, which is suitable for tv and other high-power devices, but if you want to use them with android mobile, you'll need to attach an amp for getting high-quality sound. These are also compatible with almost all audio formats such as Dolby Digital Surround EX, DTS, DTS-ES Matrix, and so on.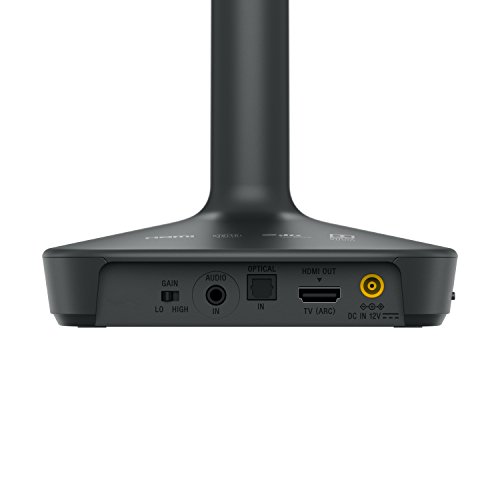 Overall, Sony L600 is the right choice among other best surround sound headphones for movies. You can also use it to play video games as well.
😐 Cons
Battery lasts only 17 hours per charge
🤩 Pros
Pure 7.1 surround and 3D sound
Excellent sound isolation and noise cancellation
Bass clarity is insane
---
One-line review: Massive battery life with powerful audio performance.
Currently On Sale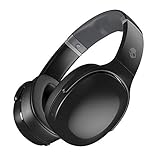 Skullcandy Crusher Evo Wireless Over-Ear Bluetooth...
Feel the bass tuned to you - Listen to songs the way they were made to be heard. With Audiodo...
One Fat Battery - 40 hours of listening off of 1 charge so whether you're on an all day gaming sesh...
What the **** is Crusher Tech? Have you ever wanted to really feel the bass? Now you can! Boost your...
Best thing since sliced bread, little more comfortable though. The Crusher Evo achieves this level...
Travel with Crusher - Take your Crusher Evo travelling with you, proivded is a durable travel bag to...
It's hard to talk about the best surround sound headphones for movies without mentioning Skullcandy Crusher EVO wireless over-ear headphones. These are a very durable and super flexible pair of headphones, and the good thing is they didn't cost as you might expect. It has a very modern and professional look and is available in four different colors. They have an over-ear design that covers their ears very well.
Most parts are built of strong plastic, which makes them lightweight, and they're super flexible. The metal headband is adjustable and covered in leather that provides excellent comfort and fits on the head very well. Also, ear cups have soft leather. When you wear, you might feel a slight pressure force on the head and ears, but you'll not feel any pressure after the day of use. These are lightweight and comfortable for longer use.
They have an excellent control system. Control buttons are placed on ear cups that you can use to control the volume, turn it on/off. Furthermore, you can adjust bass using the slider button and connect with google assistant or Siri. They have 40 + hours of battery life, which is the best compared to other wireless headphones.
Skullcandy Crusher Evo is a bass-heavy headphone, and even on low volume, they deliver excellent sounds. The sound is not as immersive as Sennheiser RS175 RF but the stereo haptic feedback feature and the ability to adjust sounds automatically make the sound impressive. As I already mentioned, these are super heavy bass headphones, and if you're not a bass lover, then don't go for these. But on heavy bass, you'll listen to vocals, dialogue, and other audio details very clear and clean.
They have 33 ohms impedance that makes them compatible with smart devices, tv, and other audio devices. The 20Hz – 20KHz frequency response offers intense bass, clear highs, and balanced mids. These are wireless headphones; you can connect them through a Bluetooth connection, and if your TV or device does not have Bluetooth, you can use a 3.5mm input cable. I simply love the SkullCandy Crusher Evo headphones for their insane battery time; not many pairs out there allow you 41 hours playback with a single charge. Also, these are foldable and come with a carrying case so you can carry them.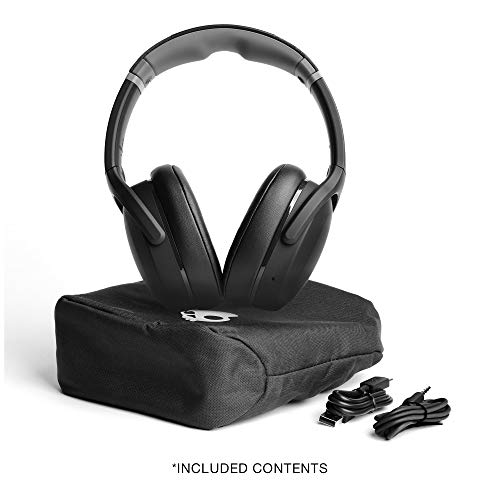 Lastly, note that these headphones may not be the best for music, but for watching movies, they are excellent. The bass provides a realistic experience while watching movies, falls, exposures, and punches in movies feel you're watching a movie in Imax.
😐 Cons
Not the best build for outdoor use
🤩 Pros
Awesome battery life
Bass control is excellent
Comfortable
---
One-line review: The A50 provides superior comfort for long sessions, along with great 7.1 surround sound, and these pairs can also be used for gaming when you are not in front of a movie.
Currently On Sale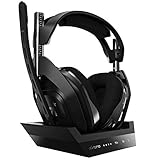 ASTRO Gaming A50 Wireless Headset + Base Station...
Astro Audio V2: Immersive Audio and sound experience that delivers dialogue, music and in game sound...
Dolby Audio: Dolby Audio delivers a cinematic, high resolution gaming audio experience
Battery life: 15 plus hour rechargeable lithium ion battery
Game: Voice balance: Gives the user total control over the mix of the game and chat Audio
Astro command center software: The free Astro command center software gives players complete control...
The outstanding pro-audio quality, Dolby virtual surround sound, and 3 way EQ switch make Astro A50 one of the top choices for watching movies and gaming. The A50 gaming headset is specially designed for hardcore gamers and is a popular option for many. It is lightweight and well-built headphones. I included this headset in the best surround sound headphones for movies because of superior unsurpassed comfort, easy pairing, 7.1 surround sound compatible with Dolby, mic mutes functionality. Astro A50 Gaming has a very nice, stylish design and is available in black/blue, green/black color schemes. These are lightweight, and most parts are made of good plastic.
These gaming headsets are wireless surround sound headphones, so all control systems are distributed on-ear cups. On the right ear cup, using buttons, you can turn on and off the headset. You can also switch to Dolby virtual 7.1 surround sound means when you switch to surround sound, you'll get excellent 360 degrees that will make your experience cinematic while watching movies. Using a button, you can switch to a 3 way EQ feature. The benefit of switching to 3 way EQ is it has software that customizes and increases the watching experience.
The bass of Astro Gaming A50 is deep and controlled, which means you'll get deep bass, and the bass will affect other frequencies. It also came with a mic, which is useful in gaming or making calls. The mic is adjustable, and you can move it up and down. When you raise the mic, it mutes automatically, and when you move down, it turns on. This feature is especially handy when you don't want your gaming pals to hear you talking to other people around you. The battery life of Astro Gaming A50 is up to 18 hours. You can also get a separate USB base station that you can use for battery charging, battery status. The base station is also handy in various situations, such as you can connect with any consoles through a USB cable. All other features include a comfortable headband and ear pads for more prolonged use and impressive noise isolation.
Overall these are a great pair of headphones if you also happen to be into gaming and love immersive movie experiences.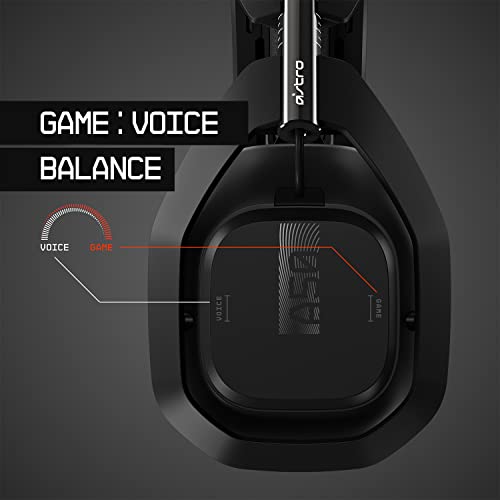 🤩 Pros
Very comfortable for longer sessions
7.1 ch surround sound
Can be used for gaming as well
---
Frequently Asked Questions (FAQs)
How To Choose The Best Surround Sound Headphones for Movies
If you're buying surround headphones for the first time, consider the following criteria when making your choice.
Sound performance
If you want to feel like you're right there with your favorite actors, choosing headphones that provide 5.1 or 7.1 surround sound is crucial. Ideally, you would want to go for 7.1 surround headphones as they provide a more immersive audio experience.
Ease of use
This one is self-explanatory; choose headphones that do not require additional cables, adapters, or special software and apps to run.
Comfort level
Comfort is essential if you are going to use them for long sessions, such as watching a film or series. In my experience, wireless headphones are better suited for movie sessions as no one will trip over and accidentally unplug them during the high point of the movie. Also, consider the cushion material – this one is mainly a personal choice, but I personally advise against synthetic leather cushions as they may feel uneasy (and sweaty!) for longer sessions.
Sound isolation
For the ultimate theater-like experience, you need headphones that effectively block noise from your surrounding environment, while offering the less sound leakage possible from your headphones. Note that both wired and wireless headphones offer very decent sound isolation. Bonus point: good sound isolation provides added privacy since people around you won't hear what you're listening to while improving your overall sound experience.
Wireless Or Wired
This mainly comes down to personal choice since both types of headphones can offer excellent audio quality. Consider going for wireless headphones if people are often on the move around you or you intend to use the headphones while on the go, such as watching Netflix during your commute time. Still, you can opt for wired headphones if this is your thing.
---
How are surround sound headphones different compared to regular headphones?
Surround sound headphones provide an immersive experience by delivering audio from 360 degrees, i.e. you hear the sounds from all sides. Dolby Surround converts mono audio into stereo, thereby providing an angle from which the sound comes.
---
What are surround sound headphones?
Surround sound headphones attempt to mimic the way you hear sounds in your daily lie, i.e. from all angles and directions. There are 2 types of surround sound headphones:
True surround sound headphones – these have multiple drivers (or speakers) built-in at different angles.
Virtual surround sound headphones – these pairs have only two speakers, but are both tweaked to process the sound and deliver it from multiple directions.
---
Can you use wired headphones to watch TV?
The short answer is YES, provided that your TV has a headphone jack input. If your TV does not have one, you can still work it out by using a receiver, such as the Flex 5000 Wireless Receiver, which connects to your TV, and allows you to plug-in your favorite wired pairs.
---
How Can I Eliminate External Noise While Watching Movies with Headphones?
Here how to ensure you are blocking the maximum possible external noise while watching movies with headphones:
First off, pick the headphones that best fit your ear size.
Avoid using open-back headphones.
Go for headphones that offer high-end sound isolation, such as the Sony L600 mentioned in this review.
We hope this guide has helped you pick your next surround sound headphones and that this takes your movie-watching audio experience to the next level.
Last update on 2023-02-17 / Affiliate links / Images from Amazon Product Advertising API