This is our comparison of the Sennheiser HD 598 Vs 599.
The Sennheiser HD 599 is an upgraded version of the HD 598. I must say Sennheiser did a pretty good job here by making the HD 599 lighter and more affordable than the HD 598, without sacrificing audio quality.
The Sennheiser HD 598 has been Discontinued by the manufacturer.
To help you decide which one is the best fit for you, we reviewed their features, differences, similarities and audio performance.
---
Sennheiser HD 598 vs 599 – Comparison Table
Both headphones are good with their build design, their features, sound quality, etc. But we will compare both with the table, and you will get a good idea of what they offer.
---
Design and Build Quality
Sennheiser HD 598 has a sophisticated and modern style, wrapped with artificial leather, accented by wooden knots with a shiny finish.
The open design, black color, shiny wood finish, pair of velvety, large pads make these headphones fabulous and give them a stylish look. These pairs offer high quality and are made of durable plastic, which makes these headphones lightweight and comfortable.
The Sennheiser HD 598 weighs 269 grams.
You can wear them for hours, and you will not feel any major discomfort, thanks to the comfortable leather band and velour-covered ear pads.
The padded leatherette headband and an embedded small axis to the base of each headset make them flexible and comfortable. You can adjust the headband according to the size of the head using the axis.
The Sennheiser HD 598 comes with two replaceable cables. One 3 meters long terminated with a 1/4†jack, and the second 1.2 meter long terminated with a 3.5mm jack for taking calls.
Sound Quality
The range of frequency is from 12 Hz to 38500 Hz, its impedance is 50 ohms, and the sound Pressure level is 112 dB.
Sennheiser HD 598 is an open design headset, which means air can squeeze around the headphone. The HD 598 provides you a balanced audio quality due to its open design compared to closed-ear headphones.
It allows higher volume and a well-balanced powerful bass than other modules. You will find a very clear and detailed sound using these headphones.
The base of the Sennheiser HD 598 is not strong compared with other model's basses, but you can listen to hip hop rock music without being overwhelming.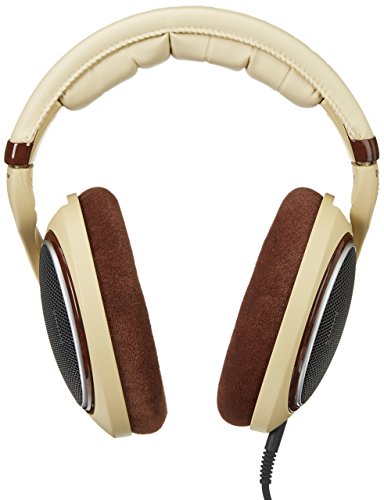 The Sennheiser 598 allows listening to music as it was intended to sound. It provides a natural sound. Although you can connect the iPod and you listen to quite a substantial volume.
Always remember that high impedance devices need high power to unleash their full potential.
Sennheiser HD 598 is often considered as one of the best open-back headphones that made it to the mainstream.
You may also like: Sennheiser Game One Vs Game Zero
😐 Cons
Bass is a little low compared to Sennheiser HD 599
🤩 Pros
Very good overall audio performance
The bass is good and tight
Great for classical, jazz music
Highly strong and durable
Comes with replaceable and detachable cables
Verdict
The HD 598 offers a powerful set of features, match with very good audio quality. If you already have these pairs, you could keep using them instead of upgrading. However, note that since this model is discontinued by the manufacturer, you will have to turn to third-party service providers for any breakdown or spareparts.
---
Design and Build Quality
The Sennheiser HD 599 is an upgraded version of the discontinued HD 598 SE model. The revamped headphones design offer a premium look at the first glance. Featuring a nicely stiched brown headband, finished with the unmissable Sennheiser logo on a matte metallic plate, the HD 599 definitely has the looks!
Made of premium materials, these reliable pairs also come with a rock solid two years of warranty. The earpads of HD 599 are interchangeable and are made of luxurious velour. The Sennheiser HD 599 weighs slighly less than the HD 598, at around 250 grams. Combined with it's padded headband, this pair offers maximum comfort for longer sessions.
Similar to the 598 HD, the Sennheiser HD 599 also comes with two detachable cables; one 3 meters long and 1.3 meters long. These cables come in handy if the primary one is damaged, and can be readily replaced.
Sennheiser HD 599 Sound Quality:
The frequency range of Sennheiser Hd 599 is around 12 – 38,500 Hz, the impedance level is 50 ohms, a sound pressure level (SPL) is 106 dB ( kHz / 1 Vrms ), and the total harmonic distortion is (THD) is < 0.1% ( 1 kHz, 100 dB).
These specifications point to the quality of sound very well, and they provide in practice what they wrote on paper.
A balance in highs, mids, and low range is fabulous and detailed. Their bass is very accurate, clear, and pleasant.
These are specially designed to record the music work and home song listening. With portable devices, sounds quality is a little bit of lack because its power is reduced sometimes.
So if you have a mobile device, its power may be a little lack but not much. If you use an amplifier, it's all right, and there is no problem.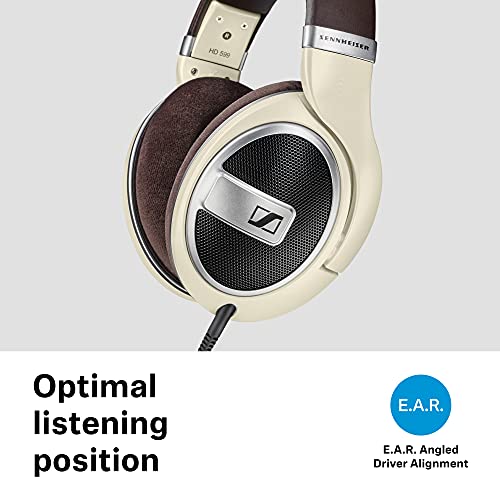 Overall the sound quality is excellent. They prevent enough amount of sound leakage and also prevent external noises.
If you like music such as Hip Hop, Jazz, or Rock, it's your headphones.
😐 Cons
Not suitable for all pockets
Not foldable
🤩 Pros
Excellent clarity and detailed sound
A strong bass response
Ideal for listening to jazz, hip-hop, rock, and classical music
Great sound isolation
Sound rich in nuances
Verdict
The Sennheiser HD 599 is definitely the one to pick if were hesitant about these two models. It offers excellent value for money for an upgraded version. Moreover, this model is still supported by the manufacturer and comes with a rock solid warranty of two years.
---
Similarities and differences between the Sennheiser HD 598 and HD 599
Sennheiser HD 599 is cheaper than Sennheiser hd 598.

HD Sennheiser 599 has a more accurate bass than HD 598.

The HD 598 comes in black color, while the HD 599 comes in brown.

Both are made of lightweight durable plastic and are comfortable.

Both come with replaceable cables.
Over to You
Overall the build quality, sound performance of both the HD 598 and the HD 599 are very similar. You will not see much difference between them, except for the bass; the Sennheiser HD 599 provides a more accurate bass response. If you already own a pair of HD 598, you may still use them till their last breath. However, if you're on the lookout a new pair of headphones, the Sennheiser HD 599 are definitely worth a shot.
Hopefully, this comparison has made your choice easier. Let us know which one you went for in the comments below.