This is our comparison of the Audio-Technica ATH-M40x and Sennheiser HD 280 Pro.
Good to highlight that both headphones are totally worth buying, even in 2021. Both pairs offer incredible value for money, given their more than decent audio performance.
To help you decide, we reviewed their features, differences, similarities and audio performance.
Audio Technica ath-m40x VS Sennheiser HD 280 Pro
Both offer excellent comfort quality, have a nice design, solid build quality, and outstanding sound quality. Let's compare their features.
---
Good: Audio Technica ATH-M40x Professional Studio Monitor Headphones offers amazing sound along with excellent comfort. Very Reliable bass, mid, and treble. The Circumaural over-ear cups, two separate detachable cables, Professional-grade earpads, and headband provide excellent comfort and durability.
Bad: No control on audio means you cannot make any changes in audio, and also, you cannot make calls through them.
Bottom line: Overall, ATH-M40x headphones are a relatively decent pair of headphones. They have a neutral frequency response and a good amount of bass without overwhelming. Also, m40x has excellent build quality, except you only rotate earpads in one direction, not in both. If you're looking for neutral-sounding headphones for $100, ATH-M40 is an excellent buy.
What's in the Box For ATH M40x?
When you open the box first, you'll see cardboard that holds warranty and headphone information. Under, you'll see a carrying case and headphones themselves, which are also wrapped in cardboard. Next, you'll find two separate cables. One is coiled back, and the second one is straight.
Design & Build Quality:
Audio Technica ATH M40x is available in only one color, a matte black finish with silver-grey highlights.
The headphones' size is bigger, and the question is these fit on smaller heads or average head sizes. Yes, Luckily, these pair of headphones fit on almost every size of people because of the adjustable headband and rotatable earcups.
These are specially designed for longer sessions.
The headband of the Audio Technica m40x is adjustable to adjust according to the head and comfort. The size of the headband is not big and very well wrapped in leather that offers excellent comfort.
Earcups of m40x are made of plastic material but strong and on the backside have Audio Technica logo. You can rotate ear cups, which is a good feature you can adjust, but you can turn it on only one side.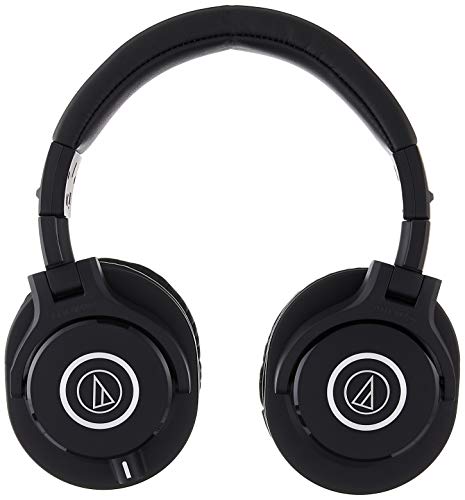 Sound Isolation:
The ear cups' design is a closed-back over-ear design, which is suitable for better sound isolation, but the sound isolation is not good enough to prevent all sound from leaking. So, in louder volume, a person who sets with you also listens to what you're listening to.
The next important thing for comfort and longer sessions is ear padding. Ath m40x earpads have very comfortable padding, and if you don't like them, you can replace them with a new one as well.
These models are foldable, so you can fold them and easily carry them outside or in traveling. So overall, the design and build quality of Audio-Technica ATH M40x is outstanding.
Connectivity:
Audio Technica ATH-M40x is specially designed for studio works and listening to music. So you'll not find Bluetooth and a built-in mic to listen to calls or any other button to control music. With the headphones, you'll get two cables, a standard and a coiled cable. The cables are detachable, and the excellent feature they put is the locking mechanism.
The lock mechanism protects cables to ripped out, and the coiled cable is flexible, so the cable will not break as well.
Sound Quality:
They have excellent sound quality. The bass and treble are decent, and if you replace ear padding with the better one, you can get much better bass, but still, these pads offer you a significant amount of bass.
These are the best model for people who prefer a neutral frequency response. Furthermore, they have a closed-back over-ear design, which means it seals your ear pretty well that prevents outer sides to comes in and internal sound to goes out.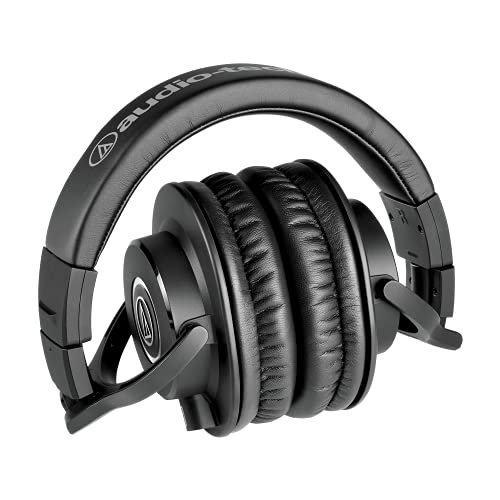 😐 Cons
No audio controls button
Ear cups rotate on only one side
🤩 Pros
Good Sound Reproduction
Excellent bass and audio quality
Very Well build quality
Detachable cables
40-millimeter drivers
Verdict
In my opinion, audio Technica m40x is a decent pair of headphones that offers excellent sound quality and comfort in less than $100. A good amount of bass, nice mid, and high ranges. I like almost everything about these headphones except earpads are not rotates on both sides.
---
Good: Sennheiser HD 280 pro designed for pro monitoring works and equipment. Very accurate and balanced sound along with a good amount of bass, mid and treble range. Build quality is decent and offers to wear for a longer period. Most of the parts are made of plastic material, which makes them lightweight.
Bad: The cable is not removable but replaceable.
Bottom line: HD 280 pro is nice closed, circumaural headphones that you can get for less than $100. It is a lightweight and comfortable headphone, and closed-back over-ear design offers to focus on music and prevents ambient sounds — an ideal product for listening to all kinds of music.
What's in the box for HD280 Pro?
Similar to ATH M40x in the box, you'll get an information card, HD 280 Pro headphones themselves, and only an audio cable, which is not detachable but replaceable.
Design & Build Quality:
HD 280pro is available in black color. Like m40x, these are big enough to fit on larger heads, and these offer to adjust according to head size as well.
A good feature HD 280 Pro has is a lot of cushions that allow you to wear for hours, and also all parts are interchangeable.
Its build quality designed to provide maximum comfort. The headband has extra padding and ear cups made of plastic. These features provide excellent comfort so you can wear them for a longer time. Furthermore, the total weight is around 7.8 ounces that makes them lightweight as well.
These are closed-back and around-ear headphones that cover all your ear. The ear pads have good padding, so while you wear them for a long time, you'll not feel any pain around your ear.
They came with 9.8 feet long cable that ends with a standard jack, and you can use an adapter for monitor devices as well. The only thing that they lack compared to m40x is providing detachable and extra cable. They came with a single coiled cable, but luckily you can replace them.
Connectivity:
Both Audio Technica ATH M40x and Sennheiser HD 280 pro are wired headphones, not wireless. So you can connect only through the audio cable. You cannot make calls, and also you cannot control audios.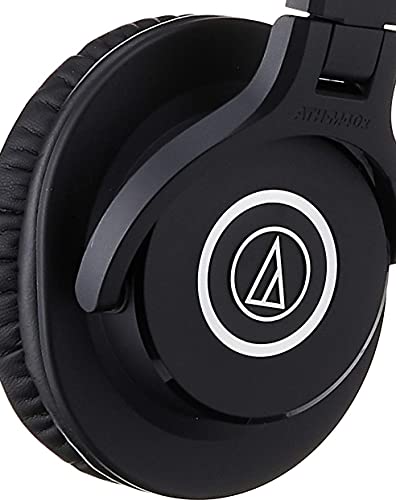 Sound Quality:
Sennheiser HD 280 pro has impressive sound quality. These are ideal for mixing monitoring and song listening. They have a frequency response between 8hz to 25khz. These ranges offer you very well and balanced lows, mids, and highs.
Also, 64 ohms impedance provides excellent sound, whether you use them on your audio devices, computers, or studio monitors. But the higher impedance needs high power to provide better sound.
They have a closed-back design, and ear cups have neodymium magnets that increase the sound pressure level.
Sennheiser HD 280 headphones can block up to 32 decibels of ambient noise. It means you will not hear outside noises; also, it is doing a pretty excellent job of sound isolation.
In short, these pair of headphones produce a very balanced sound. You'll only listen to what you produce or what a song has meant. If a song has bass, you'll listen bass if a song doesn't have a base; you'll not hear the bass. Similar to mid, lows, and highs.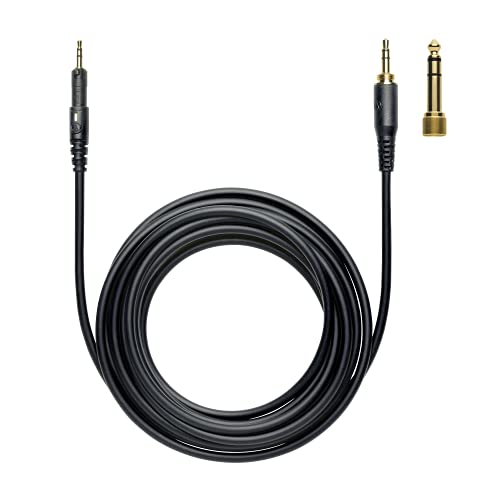 😐 Cons
🤩 Pros
Very balanced and clear song
Excellent frequency range and impedance
Comfortable to wear during longer sessions
Superior to block ambient noises
Verdict
In my opinion, Sennheiser HD 280 pro is excellent headphones that are available in less than 100. You can use them to check audio mixing quality or listen to every frequency of a song. They offer a very decent and balanced sound. The comfort level is also pretty excellent, and build quality is also nice except for not having detachable cable. Overall these headphones will worth your money.
---
Conclusion
Audio Technica ATH M40x provides more crisp and clear audio and slightly superior to 280 Pro. On the other side, Sennheiser 280 Pro offers better sound isolation. Another difference between Audio Technica ATH m40x and Sennheiser HD 280 Pro is ath m40x comes with two detachable cables, and Sennheiser 280 Pro comes with one coiled cord, which is not detachable neither replaceable.
Both headphones have almost the same sound quality. If we say we have to choose one in sound quality, I will pick Audio Technica ATH m40x and the reason I already discussed in the above section.
Don't forget to check: Sennheiser HD 598 vs 599
Both headphones have almost the same sound quality. If we say we have to choose one of the sound quality criteria, I will choose the Audio Technica ATH m40x.
But in sound isolation and blocking ambient noises, Sennheiser HD 280 Pro is a little ahead.
In short, both are available for under $100, deliver awesome audio performance and are worth buying. My personal favorite is the Sennheiser HD 280, as I find the comfort level ideal for long sessions.
I hope this comparison has helped you pick your favorite between the Audio Technica M40X and the Sennheiser HD280 Pro. Got any suggestions? Leave us a comment below.